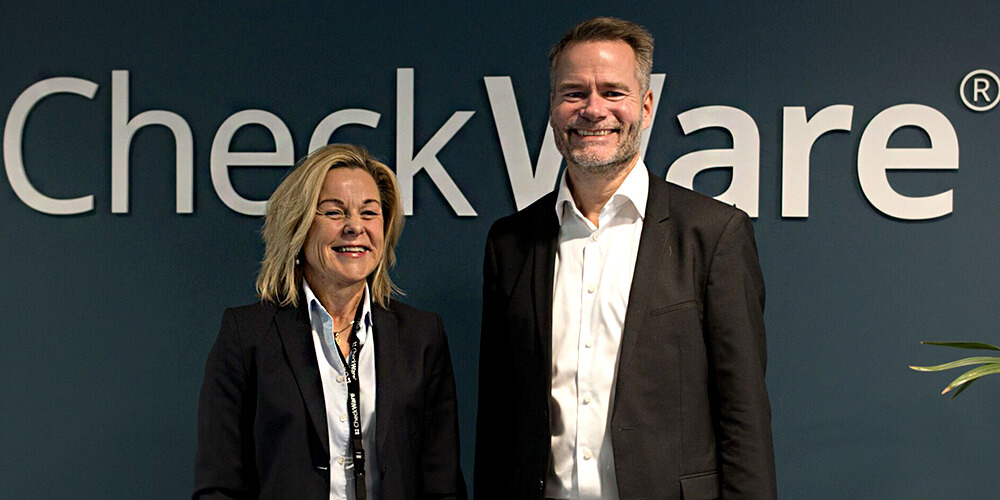 02. nóvember 2023
CheckWare joins EG to improve healthcare in the Nordics
Danish software company EG acquires the Healthtech company CheckWare AS, to improve mental and physical healthcare in the Nordics.

The company's solution, CheckWare, empowers patients to actively participate in their own treatment through digital clinical assessments, remote patient monitoring, and web-based treatment programs.
Mikkel Bardram, CEO of EG, says, "The demand for treatment of both mental and physical health challenges are on the rise across all Nordic countries. Especially, the demand for mental care often outpaces available resources. CheckWare's innovative approach to digitization and automation of mental and physical healthcare processes has proven to both free up resources and improve the quality of the patient care and treatment."
He adds, "Healthcare sectors worldwide need innovative approaches to optimize patient engagement, and remote patient treatment is becoming increasingly efficient. The acquisition of CheckWare provides us with a strong and scalable software platform to cover both mental and physical treatment. CheckWare can help the healthcare sector address the lack of resources and the changing demographics by making both mental and physical treatment more efficient."


CheckWare takes quantum leap with EG
Heidi Blengsli Aabel, CEO of CheckWare says, "We are very proud to become part of a professional and robust company like EG and we see this as a recognition of the work we have done together with our customers to create sustainable digital healthcare services. This proves that the Norwegian health-tech industry is in the forefront and has a huge potential. CheckWare has delivered high and profitable growth over many years and together with EG we will take a quantum leap towards the ambition of becoming an international actor. This is an exciting and attractive journey for our employees, and most importantly, we will continue to be a reliable and innovative partner for our customers".

Remote monitoring and Digital Healthcare
CheckWare provides solutions for hospitals, clinics, and municipalities that wish to offer digital healthcare services to their patients.
With the help of CheckWare, patients and their relatives can report on the patient's health status from home. This is combined with information and self-help tools that ensure knowledge and the ability to cope for both the patient and their relatives.
A high level of patient involvement enhances the quality of treatment, and healthcare professionals receive better and faster decision support.
CheckWare ensures that healthcare personnel are prepared before meeting with the patient, and unnecessary physical consultations can be avoided. Follow-up becomes more efficient and tailored to the individual patient's needs and availability.
Senior Vice President Steffen Rugtved, EG Digital Welfare, comments, "The acquisition of CheckWare represents another stride toward digitizing healthcare services for citizens in the Nordic region, including digital assessments and treatments to complement our existing offerings, including health certificate and specialist declarations, and electronic health record (EHR) solutions."
He adds, "We recognize that healthcare digitization is a fundamental element of maintaining a high quality of life. I am eager to explore the numerous possibilities for synergies between our existing products and CheckWare, resulting in more robust and integrated offerings for our customers in the Nordic countries."

Focus on Digital Welfare
EG boasts more than two decades of experience in providing proprietary software solutions to general practitioners and specialist clinics. Furthermore, EG extends its support to various healthcare professionals, including physiotherapists, chiropractors, dermatologists, and naprapaths.
Previously in 2023, EG expanded its healthcare portfolio by acquiring PatientSky, another Norwegian software company. With the addition of CheckWare, EG has more than 7,000 healthcare customers, offering a wide-ranging software portfolio. EG employs more than 350 individuals dedicated to the healthcare industry, further strengthening its leading presence in Norway and Denmark.

About CheckWare AS
CheckWare AS is an international software company at the forefront of digital patient engagement. Established in 2007 with its headquarters in Trondheim, Norway, the 50 employees serve more than 630.000 patients and 200 customers across Norway, Sweden, and the UK.
About EG
We craft the vertical software of tomorrow, bringing sustainable impact to customers and society. EG employs 2,000+ people primarily in the Nordics and in 2022, Group revenue was DKK 2,1 billion.

For further information

Spokesperson
Mikkel Bardram, CEO, EG
Press contact
Communication Manager Per Roholt, +45 2060 9736